About Dara's Dhaba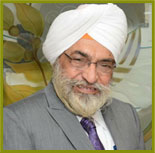 You have left the city far behind, just after parking your vehicle at the expensive parking space. Once in, lilting music replaces the hustle-bustle. Serenity dominates the aura and you're lost in a rendezvous with the bucolic ambience. In the banquet hall a whispering exclamation, "wow!!" escapes your lips. Then you emerge into the open-air and you realize you could have a silent discourse with the starry night too, as your table is laid.

You can breathe the arir of punjab, mingle with the tempting aroma escaping the chimney. And then when you some up the treat and unwillingly leave the premises, it dawns upon you that there was just a thin line of excellence that divided the busy city and the cozy Dhaba.

This was the distinct vision of Shri Jagatjit Singh Bajaj visualized fr the fun-loving people of Mumbai. It takes back to the elighties, when he realizes Mumbai serious needed a break. He envisioned merging the city's frivolous spirit with the culture and vibes and a typical village. From then. till date Dara's Dhaba reflects this vision.